Yoga can provide more effective treatment for chronic lower back pain than the more conventional methods of GP care, according to a new study.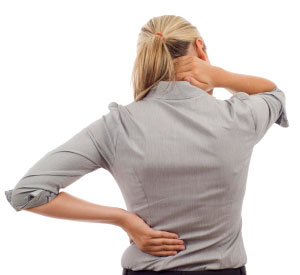 The research, carried out by the University of York and funded by Arthritis Research UK, is the UK's largest ever study into the benefits of yoga. In the study, patients were offered a specially-designed 12-week yoga programme. They experienced greater improvements in back function and more confidence in performing everyday tasks than those offered more conventional treatment.
Although improvements in back function were more pronounced at three months, researchers found there was still an improvement in peoples' ability to perform tasks such as walking more quickly, getting dressed without help or standing up for longer periods of time even nine months after the programme had finished.
The trial involved two groups of people, both of whom were receiving GP care for chronic or recurrent back pain. A 156-strong group were offered group yoga classes specially designed to improve back function, while a second control group of 157 people were offered only GP care.
The yoga programme, which involved 20 experienced yoga teachers, was designed for complete beginners, with yoga teachers given extra training in back care. Participants were recruited from 39 general practices in seven Primary Care Trust areas, with classes held in non-NHS premises in Cornwall, North London, West London, Manchester and York.
Chief Investigator Professor David Torgerson from the University of York said: "Back pain is an extremely common and costly condition. Exercise treatment, although widely used and recommended, has only a small effect on back pain. We therefore set out to investigate an alternative approach using a specially-developed weekly yoga programme for back pain sufferers to see if this allowed them to manage their back pain more successfully".
"While previous studies have focused on the short-term benefits of yoga, we also wanted to see the long-term effects and measured improvements three, six and 12 months after entry into the study. Our results showed that yoga can provide both short and long-term benefits to those suffering from chronic or recurrent back pain, without any serious side-effects."
Professor Alan Silman, Medical Director of Arthritis Research said: "We're delighted that our trial has shown that yoga provides such positive benefits for people with chronic low back pain. This extremely common condition cannot be managed with painkillers alone and there is an urgent need to have non-drug therapies that sufferers can utilise in their own home. This trial is part of our larger commitment to seek self-help solutions to this common musculoskeletal problem. There are compelling explanations why yoga may be helpful and this trial lends powerful support to the wider use of this approach."
Those attending the specially designed yoga programme, which involved step-by-step gentle classes, were encouraged to become self-sufficient in the long-term. Classes were supported with four home practice sheets, a manual, and a four-track audio CD teaching how to relax physically and mentally.
Participants in the yoga programme were surveyed nine months after the programme finished and more than half of those who responded were still regularly practising yoga, mostly at home, twice a week.
We do not endorse any research, studies or sources mentioned within our blogs and comments. Furthermore, we do not endorse any medical advice provided, and would strongly recommend anyone seeking medical advice to contact their local healthcare provider.