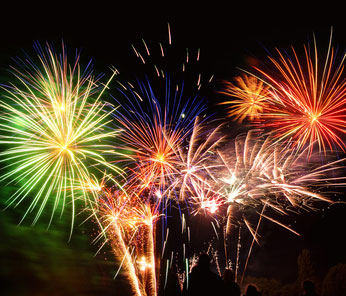 It's that time of year again. With just a few days to go till Guy Fawkes Night, shoppers are out in force buying fireworks or planning on taking their families to public firework displays.
But for Fibromyalgia sufferers, the 5th November isn't necessarily something to look forward to, especially if you're easily startled by the loud bang emitted by fireworks. For many, being startled can lead to aches and pains: dizziness, headache, nausea, disorientation, panic, and, eventually fatigue.
And even if you're not sensitive to fireworks, going to public displays means having to deal with large crowds heavy traffic and standing for long periods of time.
Staying at home doesn't get you off lightly either. Private displays can be equally traumatic, with local residents letting off fireworks on a daily basis sometimes three or four weeks before. Some are so loud and so close they can make you jump each time they're launched!
Some sufferers advise that calming supplements can help.  Deep-breathing exercises can also make a difference. And if you have double glazing, you at least have the benefit of soundproofing!
Does the 5th November fill you with dread, or are you able to have an enjoyable time with your family? Have you found anything that helps?
Please post your comments!
We do not endorse any research, studies or sources mentioned within our blogs and comments. Furthermore, we do not endorse any medical advice provided, and would strongly recommend anyone seeking medical advice to contact their local healthcare provider.