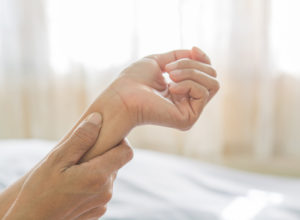 The Royal College of Physicians' report finds that patients with complex regional pain syndrome (CRPS) need better support. Find out more in our blog.
A new report, published by the RCP, has stated that patients with complex regional pain syndrome (CRPS) need better diagnosis, treatment, and overall management of their condition from healthcare professionals. As experts in handling CRPS compensation claims for many sufferers, we agree with this statement and understand all too well how much pain and discomfort sufferers go through. The report, which was published in partnership with 28 other medical organisations, provides insight into diagnosis, treatment, management, and support currently available for patients in a wide variety of clinical settings, from GP practices, surgical practices and physiotherapy/ occupational therapy practices, through to rehabilitation medicine, long-term care, rheumatology and more.
As a condition, CRPS is renowned for causing persistent, severe and debilitating pain in a limb. The pain caused by the condition is also accompanied by a range of other symptoms, such as sensitivity to touch, swelling, and a lack of movement. CRPS is rare and can often be confused with other causes of pain. As a result, many patients are forced to wait before they receive a diagnosis, which prevents them from receiving the treatment they need early.
Typically, CRPS starts after an injury to the limb, however, the cause of the continuous pain felt in the affected limb, alongside other symptoms, is unknown. Although treatment can help to address the symptoms felt and help patients better manage the condition, it can't treat or cure the underlying cause. Some patients can show improvement within around one year, however, others are left with constant pain for many years. Experts say further research is required to better understand the complexities and causes of CRPS and other chronic pain syndromes, such as fibromyalgia.
The report itself highlights the need for multidisciplinary support, whereby professionals from a wide range of disciplines with different but complementary skills, knowledge, and experience works together to reach a solution and provide the very best healthcare, to support and manage CRPS. According to the report, the 'four pillars of care' are:
– Education
– Pain relief
– Physical rehabilitation
– Psychological intervention
The primary aims for medical professionals is to reduce the pain felt by CRPS patients and to allow sufferers to better manage their condition and improve their quality of life. In order to achieve this, a prompt diagnosis and early treatment are crucial; not only will they help to avoid secondary physical problems caused by the disuse of the affected limb, they will also help to prevent sufferers from experiencing the psychological consequences of living with undiagnosed chronic pain.
Overall, CRPS patients need better diagnosis, treatment, and overall management of their condition, and it's positive to see that the new guidelines outlined within the report published by the Royal College of Physicians, which will help to ensure better care for patients of this very painful condition, are being supported by many different organisations. Currently, the general public and NHS have a very limited knowledge of CRPS, which may cause problems. However, with these new guidelines and experts showing a commitment to making early diagnosis happen, things are definitely moving in the right direction.
We do not endorse any research, studies or sources mentioned within our blogs and comments. Furthermore, we do not endorse any medical advice provided, and would strongly recommend anyone seeking medical advice to contact their local healthcare provider.