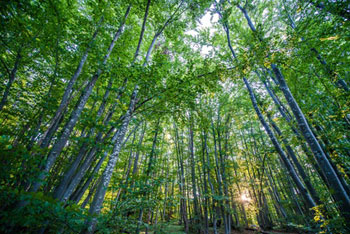 As a child, you may recall your mother offering the following advice: "go outside and get some fresh air, it's good for you!"
At this time of year, when the warm spring sunshine begins to hint at the summer to come, it's a great opportunity to remind ourselves of the benefits of getting out and about and participating in some form of physical exercise in nature.
For anyone that suffers from fibromyalgia, however, putting the notions of physical activity and the great outdoors together may present a daunting challenge. It's worth noting that the NHS recommends outdoor activities as a helpful part of any treatment programme, in improving both your physical health and mental wellbeing. For those that need a little more convincing, we have put together a list of positive ideas that should encourage you to stretch your legs and enjoy the sunshine this spring:
Aerobic exercise
Walking, cycling and swimming can help to build up your endurance levels and benefit your ability to function on a day-to-day basic level.  According to  UK Fibromyalgia "slow, steady progression is the key" and fibromyalgia sufferers should look to participate in exercise that is low impact and non-weight-bearing.  Ask your GP or physiotherapist to work with you in developing a simple exercise programme personalised to your symptoms and abilities.
Relaxation
If you suffer from fibromyalgia it is particularly important for you to find ways to relax as stress can cause your symptoms to flare up and contribute to depression. Spending some quality time in nature can be a particularly good way to unwind. Identify a relaxing outdoor activity that appeals to your interests and try to find a little time each day/week to indulge yourself in it.  Suggestions include:

An afternoon stroll in the park
Practising yoga or meditation in your garden
Finding a comfy bench with a pretty view to read a good book on
Better sleeping habits
Have you ever spent a weekend in the country and found yourself ready for bed earlier than usual? In the Telegraph article Walking to a good night's sleep, Professor Jim Horne lists some of the many reasons why time spent outdoors can help us to get a good night's rest:
"Last but not least, being outdoors has another great advantage – daylight, which has a powerful effect on our internal 'body clock' and, particularly, the timing of sleep. It is why sunrise is so effective in waking people up. Daylight also has a subtle alerting effect in suppressing daytime sleepiness, and in doing so increases sleepiness at bedtime."
The natural world and healing
Historically, the healing process, spirituality and the natural world are inextricably linked; we might look to the philosophy behind Japanese Healing Gardens, as a good example. You may also observe that hospitals and recovery centres often incorporate a therapeutic garden to assist in a patient's rehabilitation. In this way, investing time in your garden can be a great way to improve both your sense of wellbeing and physical health; gardening can be an extremely therapeutic activity, as well as good exercise. If you don't have a garden of your own, why not consider joining a local allotment or participate in a community garden: this also affords you the opportunity to meet some other green-fingered folk as an added bonus!
Vitamin D
Whilst the sun's rays can be harmful to our skin, it is important to remember that sunshine also provides us with essential vitamin D. The value of vitamin D for fibromyalgia patients is detailed in this study by researchers in Austria, revealing the positive link between reduced pain and fatigue levels, and vitamin D.  If you are heading outdoors on a particularly sunny day, protect your skin with sunscreen just before you leave the house.  It takes the skin approximately 15 minutes before it absorbs sunscreen, and that's exactly the right amount of sun that your skin needs each day to get its fill of vitamin D.
Finally, if you are still looking for a reason to get outdoors and enjoy the fresh air then, perhaps, the The Cloud Appreciation Society may provide the inspiration that you need.  On April 14th this fabulous organisation are asking people across the globe to "look up to the sky" and take pictures of clouds, for submission to their website. Why not join the society and explore their philosophy that: "clouds are nature's poetry, 
and the most egalitarian of her displays, since 
everyone can have a fantastic view of them."
What are your favourite ways to relax or invigorate yourself in the fresh air?  Do you have any examples of outdoor activities that have helped to relieve your fibromyalgia symptoms and offered you some relaxation?  We'd love to hear about them!
We do not endorse any research, studies or sources mentioned within our blogs and comments. Furthermore, we do not endorse any medical advice provided, and would strongly recommend anyone seeking medical advice to contact their local healthcare provider.